ENTERPRISE INTRODUCTION
ABOUT US
Riebo Technology is founded in 2015 and located in Chengdu, China. Riebo is the biggest aerial photography camera manufacturers in China with 200 employees and 35% of them are technical engineers. We develop, produce, and sell hardware for geospatial data acquisition systems, as well as offer data collection, processing, and application services that are both high-performance and reliable.
With core technologies in optics, inertial navigation, photogrammetry, and spatial data processing, Riebo Technology has established a reputation for delivering high-quality products and services.
Under the high-end brand "RIEBO", we specialize in oblique photography, an area in which we are recognized by a large number of satisfied customers. 70% of China's mapping UAVs are equipped with Riebo main products, including half-frame, full-frame and medium-format orthophotography cameras, as well as oblique photography cameras.
Riebo Technology is committed to becoming the world's leading solution provider for geospatial information data collection and post-processing applications. Our goal is to provide outstanding solutions and services to customers worldwide, continually creating value for them.
PROFESSIONAL TEAM
Professional team provides complete pre-sales and after-sales services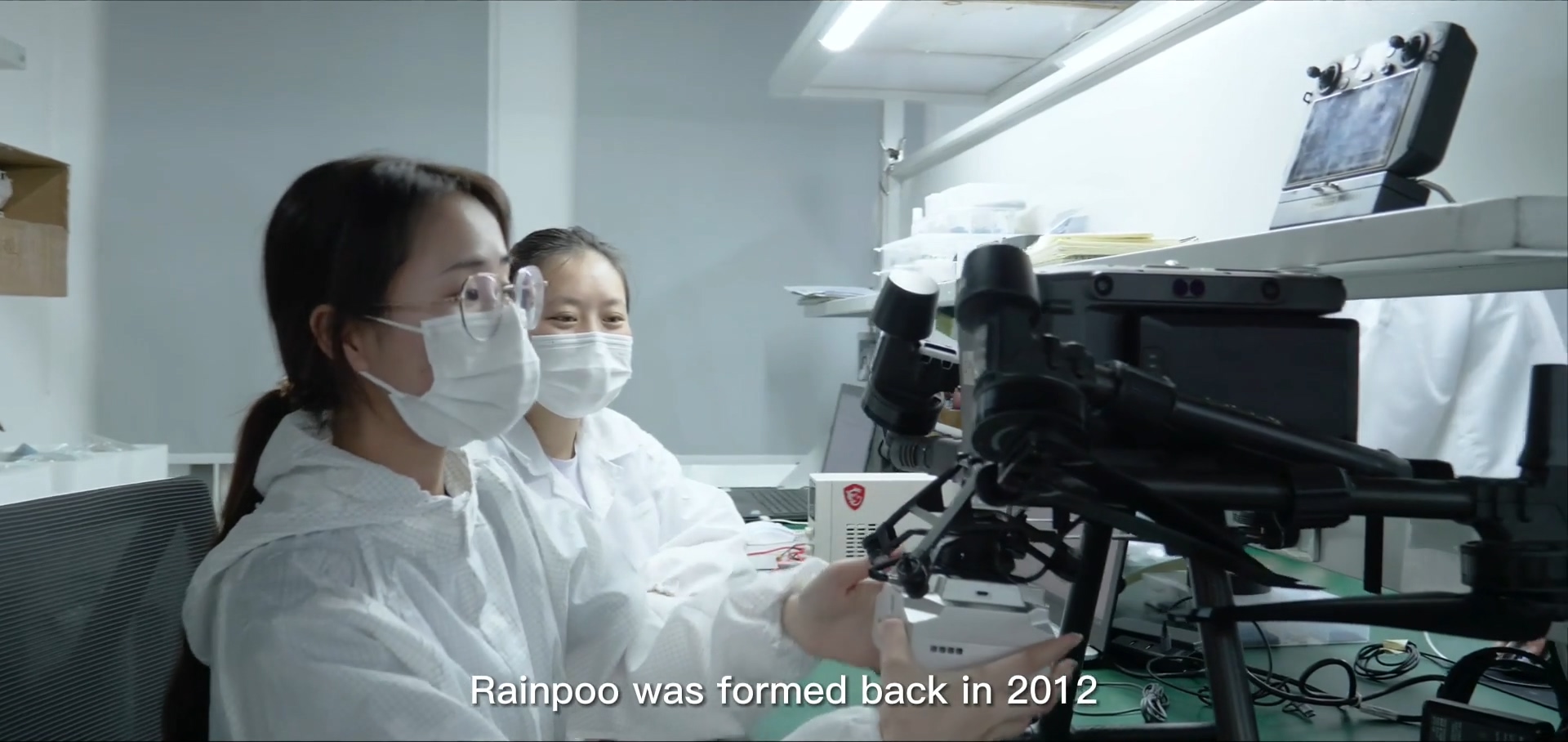 DEVELOPMENT HISTORY
2011

He chose to go to the skyMr.Yang, co-founder and CEO of Riebo Technology, was called by his great passion and interest in drones. He started a UAV group composed of graduate students and PhDs from SWJUT and CDUT.

They assembled their first drone under the guidance of their professors. This was the start of Riebo Technology. This small helicopter carried his camera flying to the sky and provides the aerial photography services for governments and universities. Along with the growth of practical experience and in-depth academic research of the UAV and gyroscope, he chose to go to the sky.

2013

Cooperated with GovernmentThe rapid development of aerial photography has attracted a large amount of talent and capital into this field, so Mr.Yang decided to find a segmentation with higher technical requirements.

He chose the aerial mapping, which has very high requirements for flight platforms, loads and data processing. As increasing technical capability, Riebo Technology became the designated partner of the government forestry department to provide forest aerial mapping services for forest pest control.

2015

Focus on 3D ModelingThe limitations of 2D aerial mapping made Mr.Yang decided to move the company towards 3D aerial mapping. Based on a deep understanding of flight platforms and payload technologies, the company focused its business on oblique photography technology.

The common solution for oblique photography is the five-lens camera assembled by Sony camera at the time. However, due to the limitation of the payload and camera features, the work efficiency and effectiveness were not good enough. Thus, Riebo Technology started researching the miniaturization and specialization of five-lens tilt equipment.

2016

The First Five-lens Oblique Camera LaunchedRiebo launched the first miniature five-lens oblique camera: S2.

S2 weighed 1.2kg, which was 55% lighter than the competition and allowed mainstream aerial survey multi-rotor drones to mount it for aerial surveys. However, the S2 was still based on Sony camera, which couldn't meet the specialized needs of oblique photography, and had problems such as poor synchronization and insufficient modeling accuracy.

2017

One Giant Leap for Oblique Photography IndustryRiebo launched a revolutionary product: D2.

That's one small camera for Riebo, one giant leap for oblique photography industry. D2 is a high quality five-lens camera weighing 850g, which is only 40% of the weight of competing products, allowing the flight platform to triple its endurance and greatly improving operational efficiency.

The birth of this revolutionary camera is based on Riebo Technology's self-developed CMOS specifically for aerial mapping instead of Sony camera based solutions. This brings greater camera reliability and a more powerful feature set. The same year, Riebo launched DG3, an upgraded version of D2, which further reduces the weight by 25% to 650g, allowing fixed-wing UAVs to carry it easily.

2018

Spotlight on Riebo TechnologyOct.Riebo Technology has completed the independent development of professional aerial measurement MLE lens and global mechanical shutter MLS shutter, and loaded on the new generation D2M and DG3M. Those professional components bring stunning results: smaller lens distortion and image aberration, 50% increase in the number of matching points, 200% increase in shutter life to 500,000 times, which is a real "tool" product.

Once again, the spotlight shining on Riebo Technology.

2020

New Products Leading the IndustryRiebo Technology launches its most powerful flagship product: DG4Pros.

DG4 Pros is a five-lens full-frame camera with 200 million pixels and weighs only 960g. The photos taken by DG4 Pros are capable of producing finer 3D models, meeting the highest demands of oblique photography operations.

The birth of the DG4Pros completed Riebo Technology's product matrix and set the highest standard for cameras in drone oblique photography. It is still the leader in the entire industry today.

2021

Riebo Technology has captured 70% of the marketOblique photography began to serve more and more industries, and almost all mapping companies have their own oblique photography teams. Upon the Divine Land, Riebo Technology's camera records the majesty of the city and the beauty of the mountains.

Riebo Technology has a 70% market share with the most advanced products and perfect services. Riebo has all the core technologies for aerial survey loads. Based on massive using data, Riebo could rapidly update and optimization the products and service for customers.

2022

Unlock New VisionRiebo Technology improved the product matrix, launched medium format orthophoto camera M10 and M15, medium format five-lens DG10, full-frame five-lens upgrade DG6pro, and the new cost-effective series DG4M/DG6M, to meet the needs of various types of aerial survey. Riebo Technology continues to create value for customers.

We look upon the sky and capture the moment together.

2023

Embracing "RIEBO" for Our Global JourneyWe are thrilled to announce a significant milestone in our company's journey – a brand name change from "Rainpoo" to "Riebo", maintaining a consistent and easily recognizable identity across languages. This transformative decision reflects our unwavering commitment to growth, innovation, and global expansion.